Region:
ON
Toronto
Shin-ijusha
| Born 1996, Tochigi, Japan
https://www.instagram.com/amomiohk,
https://www.instagram.com/quasardanceproject
Bio
Mio Sakamoto is a Toronto based emerging performer, choreographer, and certified Kaeja Elevation teacher originally from Japan. Sakamoto graduated from The School of Toronto Dance Theatre in 2017. In 2018, she attended B12 Festival and Nuova Officinal Della Danza where she researched and trained with international artists including Francisco Córdova, Shannon Gillen, Ryan Mason, Johannes Wieland, Hofesh Shechter Company, and L-E-V Dance Company. Over the past few years, she has performed (selected)Crépusculeby Marie-Josée Chartier,October Skyby Paul-André Fortier,XTOD – SOLO DANCE XCHANGEfor Xtraordinary Japan Tour by Kaeja d'Dance, andMani.Deuxby Northfoot Movement for its premier at FFDN in 2019. She is currently working in two creations by Kaeja d'Dance premiering in 2021. Sakamoto's choreographic work,Systematic, Oblivious or Naive, You Don't Own Me,andCater To You,were performed in Canada and Japan. Supported by the Newcomer and Refugee Artist Mentorship program of TAC, she is in progress to develop her artistry with Karen Kaeja as her mentor. In 2020, she was selected to receive the RBC Newcomer Arts Award by Neighbourhood Arts Network – Toronto Arts Foundation.
---
Click on thumbnails to view full images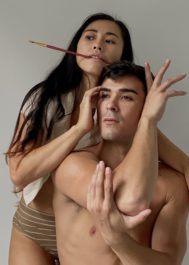 ---