Region:
Vancouver BC
Generation:
Issei
Osaka, Japan
Bio
Born in Japan and raised in Vancouver, Yuta Takenaka is a Japanese-Canadian actor, writer and audiobook narrator.
Graduating with an English degree in the hopes of becoming a writer, his acting ambitions began when he worked as a background performer in 2004's "Godzilla" and witnessed one of his heroes, Ken Watanabe acting on set.
Since then, he has appeared on numerous television shows for Netflix, Amazon, Apple, AMC and more.
His highlights include sharing the screen with Nikkei actors he greatly admires, notably George Takei for AMC's "The Terror: Infamy" and Cary-Hiroyuki Tagawa for Amazon's "The Man in the High Castle".
Takenaka also works as an audiobook narrator, recording for publishing companies like Forbes Books and ECW Audio, which he won an Audiofile Earphones Award for his recording of Doretta Lau's "How Does a Single Blade of Grass Thank the Sun?".
His greatest accomplishment is recording fellow Japanese-Canadian writer Terry Watada's 10 hour epic "The Three Pleasures" and he continually strives to be involved in projects that showcases Japanese-Canadian voices.
He is represented by Rebecca Strom and Melanie Eng (Voice) at Connekt Creative Agency.
---
Click on thumbnails to view full images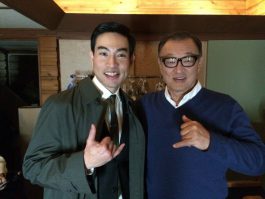 ---